To Access the Full show, please Login to your Club 19.5 membership: <a href="https://www.theothersideofmidnight.com/club-19_5-login/" title="Sign In">Sign In</a>
---
Fast links to Items :  Robert  –  Timothy – John – Andrew –  Misc
Fast links to Bios :    Andrew  –  Timothy  –  Robert  –  Kynthea
---
Trump Administration Suddenly Announces
Return of American Astronauts to the Moon …
Before End of President Trump's Second Term!
Find Out "Why" Here:
Click on Image for
The Presidential Briefing
---
---
The OSOM Easter Sunday (April 20, 2019) Global Broadcast
"The Next Voice You Hear" on OSOM with Robert Morningstar, Timothy Saunders, Andrew Currie & Kynthea.
The Next Voice You Hear is a historic Easter Sunday 2019 broadcast with co-hosts, Robert Morningstar, Timothy Saunders, Andrew Currie and Kynthea discussing The Notre Dame Cathedral FIre, evidence of arson and dark forces behind the and the coordinated attacks on Christians and Christian Churches around the globe on that very night of The Other Side of Midnight.
Beside the Notre Dame fire, Timothy Saunders discusses the Sacred Geometry in the architecture of Notre Dame Cathedral, and the suspicious nature of the fire, analyzing videos showing suspected arson and arsonist caught on camera starting the fire.

Fast links to Items :  Robert  –  Timothy – John – Andrew –  Misc
Fast links to Bios :    Andrew  –  Timothy  –  Robert  –  Kynthea
Show Items
Robert's Items:
The Archetypes and The Shadow
A Cosmic Battle for Minds & Souls
"The Next Voice You Hear"
Julian Assange Links
1- Sean Hannity Interviews Julian Assange
2-John Pilger on Protecting Julian Assange
3- Bill Binney NSA's Top Cyber Scientist Defends Assange
4- An Honest Government Statement on Assange
5- Exposing The Mueller 'Ca-Ca' Report
Douglas Gabriel & Michael McKibbon
---
The Next Voice You Hear …
6- The Next Voice You Hear … The Film
7- Film Synopsis and Review By Jim Gisriel
8- The Next Voice You Hear is a 1950 drama film in which a voice claiming to be that of God preempts all radio programs for days all over the world. It stars James Whitmore and Nancy Davis (who later became Nancy Reagan) as Joe and Mary Smith, a typical American couple who are among first hear "The Voice"
https://en.wikipedia.org/wiki/The_Next_Voice_You_Hear…
The Red Planet
9- The Red Planet
Theme: Diabolical Interference with Celestial Communications
---
Fast links to Items :  Robert  –  Timothy – John – Andrew –  Misc
Fast links to Bios :    Andrew  –  Timothy  –  Robert  –  Kynthea  –  Greg
---
Focus Group
on the News Report of the Week
The Notre Dame Fire
Part 1
10- Notre Dame Ablaze
The U.K. Daily Mail asks: Why Couldn't Fire be Stopped Faster?
Where Were the Firemen as Blaze Took Hold?
https://www.dailymail.co.uk/news/article-6925307/Questions-Paris-fire-brigade-Notre-Dame-inferno-burns-control-hours.html
And Related Events
Al Asqa Mosque Fire at Same Time
Attempted Arson of St. Patrick's in NYC
Church Arson and Vandalism in France, USA, China,
in Africa & Arab Countries
11- English War Poet Siegfried Sassoon
At the Cenotaph
I saw the Prince of Darkness, with his Staff,
Standing bare-headed by the Cenotaph:
Unostentatious and respectful, there
He stood, and offered up the following prayer.
"Make them forget, O Lord, what this Memorial
Means; their discredited ideas revive;
Breed new belief that War is purgatorial
Proof of the pride and power of being alive;
Men's biologic urge to readjust
The Map of Europe, Lord of Hosts, increase;
Lift up their hearts in large destructive lust;
And crown their heads with blind vindictive Peace."
The Prince of Darkness to the Cenotaph
Bowed. As he walked away I heard him laugh.
Read more: http://theconnexion.net/wp/?p=3178#ixzz5lbJdc6vi
12- Tolkien and the 2 Towers
http://www.mappa-mercia.org/2011/06/tolkiens-two-towers.html
Was J.R.R.Tolkien was relating the true ancient pre-history of Europe?
---
Part 2
12-Revelation of "The Goddess"
Revelation of the ISIS Cult as basis of French pre-Christian religion and its later takeover of Isis sites by Roman Catholic Church, including Notre Dame
13-The Pentagram and the Meridian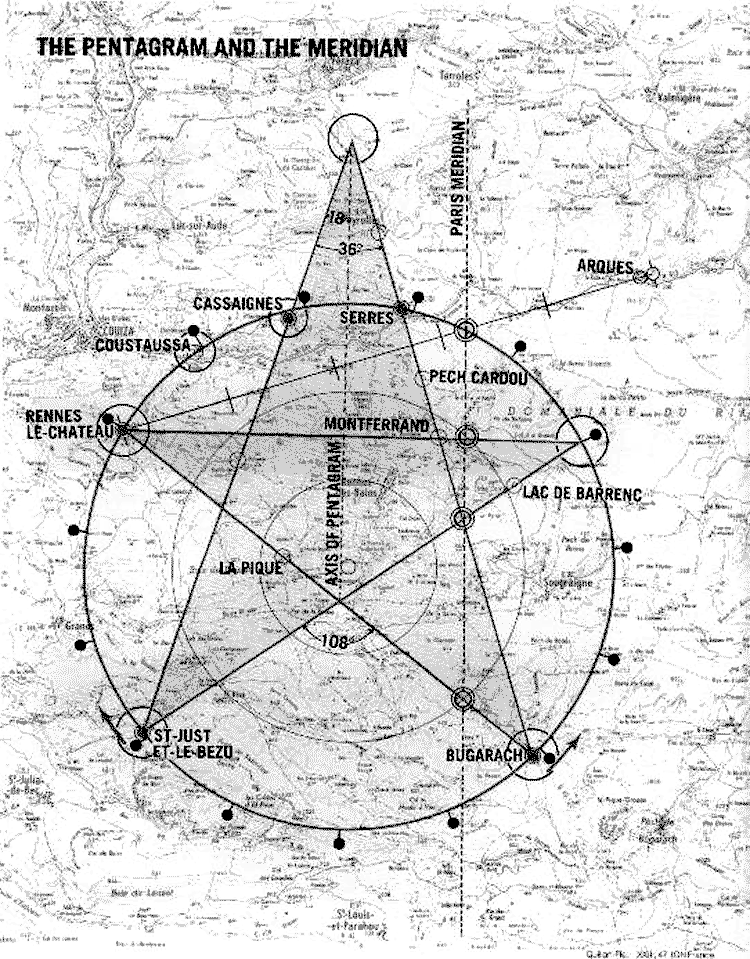 14- "The Paris Meridian"  (aka "The Devil's Line)
http://ximene.net/home/supporting-documents/research/special-features-3/visigothic-treasure/discovery/the-devils-line/
15- The Cathars in Southern France and the Church of Rennes-le-Chateau
Sacred Geometry & Ley Lines in France From Paris Meridian to The Devil's Throne & Satan's Church at Renne-Le-Chateau
https://ufodigest.com/article/was-ben-hammotts-rennes-le-chateau-tomb-discovery-really-hoax

---
Fast links to Items :  Robert  –  Timothy – John – Andrew –  Misc
Fast links to Bios :    Andrew  –  Timothy  –  Robert  –  Kynthea
16- William Butler Yeats 
The Second Coming
Turning and turning in the widening gyre
The falcon cannot hear the falconer;
Things fall apart; the centre cannot hold;
Mere anarchy is loosed upon the world,
The blood-dimmed tide is loosed, and everywhere
The ceremony of innocence is drowned;
The best lack all conviction, while the worst
Are full of passionate intensity.
Surely some revelation is at hand;
Surely the Second Coming is at hand.
The Second Coming!
Hardly are those words out
When a vast image out of Spiritus Mundi
Troubles my sight: somewhere in sands of the desert
A shape with lion body and the head of a man,
A gaze blank and pitiless as the sun,
Is moving its slow thighs, while all about it
Reel shadows of the indignant desert birds.
The darkness drops again; but now I know
That twenty centuries of stony sleep
Were vexed to nightmare by a rocking cradle,
And what rough beast, its hour come round at last,
Slouches towards Bethlehem to be born?
THE SHADOW WALKS AMONGST US


Exposing a Global Shadow Government
17-  David Johnston's Book Review "Catafalque"
https://wordpress.com/page/ufospotlight.wordpress.com/6213

Introduction to Jung's Archetypes & The Shadow
An Archetypal Battle for Minds & Souls
"Becoming the Grail"
Jung & the Nature of the Shadow
The Personal Individual Shadow & The Collective Shadow
To Buy the Book CATAFALQUE by Peter Kingsley
Click on THIS link:  https://peterkingsley.org/product/catafalque/
18- The Harrowing of Hell  (a medieval play)
Tonight is the 2025th anniversary of
The Night XT Descended into the Underworld
To Open The Gates of Hell to Free All Lost Souls
Click on Image for PDF Version
19- The Winds of History:
A Druid Mystery
Who brews the winds of history,
Some warm & mild
some cold and wild
that blow our lives likes specks of dust in a twilight hardly seen by an enchanted child?
Spirits alight upon us but cannot yet be grasped
in a single flash.
---
Fast links to Items :  Robert  –  Timothy – John – Andrew –  Misc
Fast links to Bios :    Andrew  –  Timothy  –  Robert  –  Kynthea
---
John Francis' Item:
I found the follow quote online by French President Macron made to a group of French journalists:
"Work will immediately begin to rebuild Notre Dame in a way consistent with our modern, diverse nation." (France owns and is the caretaker of the Notre Dame Cathedral by law)
---
Miscellaneous Items:
1-
EXCLUSIVE NEWS: A Mosque to replace Notre Dame was prophecied in a book from 2005
EXCLUSIVE NEWS: A Mosque to replace Notre Dame was prophecied in a book from 2005
---
2- Ignition Team" Found on Roof of Notre Dame?
3- 50+ killed, 280 injured in 6 blasts at Sri Lankan hotels and churches on Easter Sunday https://www.rt.com/news/457129-sri-lanka-church-hotel-blasts/
Fast links to Items :  Robert  –  Timothy – John – Andrew –  Misc
Fast links to Bios :    Andrew  –  Timothy  –  Robert  –  Kynthea
---
Andrew Currie
Website: acstoryboards.com
Andrew A. Currie began his artistic career as a community public artist, working with neighbourhood groups to create murals in schools and community centres. As a graphic designer and illustrator, he serviced small to large Canadian companies. For the past decade, he has worked as a storyboard artist and concept illustrator in film and television, and in commercial tv advertising. Andrew has a Bachelor of Arts from The University of British Columbia, a diploma in graphic design and illustration, and a Masters in Art Therapy.
---
Timothy Saunders
Website: www.tsyd.com
Timothy Saunders is a British national who grew-up near to the south-coast of the United Kingdom. Positively influenced by the nearby yachting and shipping scene, he chose his ideal career path at the age of 'ten' when he decided to become a yacht designer. He studied Industrial Design at the coveted Coventry University and is fortunate to have been chosen by many of the world's highly revered yacht Design Studios to work on an array of live projects of different sizes, styles and uses, during what he affectionately calls his apprenticeship years. In 1999 Timothy established his independent Design Studio and rapidly became involved in originating a new generation of Super and Megayachts ranging in size from 9-270m (30-886 ft), which gained increasing positive notoriety while exhibiting his work at the Monaco Yacht Show and other prestigious venues.Timothy will see the launch of a 90m Megayacht and a 50m Super Sail yacht later this year and says, "it is very rewarding to breathe life in to these innovative projects which are ultimately positive reflections of each satisfied Owner". Timothy Saunders Yacht Design LTD continues to evolve and develop multiple iconic custom Super and Megayacht projects for local and international Clients.
Fast links to Items :  Robert  –  Timothy – John – Andrew –  Misc
Fast links to Bios :    Andrew  –  Timothy  –  Robert  –  Kynthea
---
Robert Morningstar
Websites:  UFODigest
https://ufospotlight.wordpress.com/5951-2/
www.facebook.com/robert.morningstar.12
Robert Morningstar is a civilian intelligence analyst, investigative journalist and psychotherapist, living in New York City.
Robert is a specialist in photo interpretation, geometric analysis and computer imaging. Robert Morningstar is a graduate of Power Memorial Academy and was a New York State Regents Scholar (1967-72) at Fordham University where he received a degree in psychology.  While at Fordham University, in 1969, Robert participated as a research fellow in a US Navy-sponsored program to develop Artificial Intelligence.
An expert in Chinese language, history and martial arts, he is acknowledged as a Master of Yang Family Tai Chi Ch'uan by the Hong Kong Tai Chi Masters Association and has taught at Oberlin College, and  Hunter College, the City University of New York. In 1992-93, he worked in the Behavioral Science Department of The International Center for the Disabled.
Robert Morningstar is a FAA-licensed private pilot and Instrument Ground Instructor and has studied the paranormal and UFOs for over 50 years and published many research articles on the Internet, exposing government cover-up and deception applied in the JFK Assassination. His work is cited in major books on the JFK assassination, notably in Paris Flammonde's "The Assassination of America" and "Conspiracy Science" by Prof. James Fetzer. Morningstar was a featured speaker at the Secret Space Program Conference held in San Francisco, June 2015 where he exhibited Apollo lunar anomalies and UFO activity that occurred throughout the Apollo Missions. Robert has written extensively to expose NASA's use of "Disinformation Technology" to suppress evidence of an extraterrestrial presence on on the Moon.  Robert is currently the Publisher & Editor of UFODigest, which exposes the real nature and menace of the UFO phenomenon and its cover-up to our constitutional liberties. Robert is regularly heard on many national and international radio programs, including Red Ice, Far Out Radio, The Outer Edge, Future Theater, Dr. J Radio Live and Skywatchers Radio.
Fast links to Items :  Robert  –  Timothy – John – Andrew –  Misc
Fast links to Bios :    Andrew  –  Timothy  –  Robert  –  Kynthea
---
Kynthea
As an "Inspirational Companion," Kynthea brings a broad insight to the discussion of unfolding consciousness.
Her Art and Guides are multi-dimensional. Her personal journey of transformation has enabled her to "get" those she councils around the globe… people encountering dimensional shifts, unpredictable changes and altered perceptions. Kynthea helps people attune to their Core Being for clear guidance to live a happy and harmonious vibrant life. She helps people to build a bridge from their old life to a new and vibrant one.
Producer for The Other Side of Midnight…Kynthea collaborates with other pioneers of the future….not to mention the international Club 19.5 community and listeners from all around the world. Thought Pioneers, feed her quest for revelation.
Kynthea serves also as Artistic Director for the Mars Project, Together with Richard C. Hoagland, she studied the first Cydonia photos and was drawn into the early Mars investigation. She's worked closely with researchers and was the first to sculpt the incredibly controversial Face on Mars…followed by numerous sequential sculptures as new data came in.
Contact Kynthea at:   Kynthea <[email protected]>
Fast links to Items :  Robert  –  Timothy – John – Andrew –  Misc
Fast links to Bios :    Andrew  –  Timothy  –  Robert  –  Kynthea
---